What is the best gas leaf blower for the money? That is something I find myself wondering all the time in the Fall. I love this time of year. The colours are amazing, there is Halloween to look for and all of the fun that entails.
Whilst the trees are doing their annual thing, and getting ready to hibernate for the winter, the piles of dropped leaves are a bit like snow.
They look great for the first day or two, but much more than that, they become an unsightly pain.
When the obligatory rains come in the fall, they get slippy.
Your neighbours and family visitors always have a subtle comment about the state of your yard.
Probably the worst thing about the leaves are their ability to hide your pet's poop; many a time I've found myself in trouble for rushing in through the door from the yard to be shouted for leaving 'muddy' footprints in the hall!
Been there? If so, you may be in the market for a leaf blower and this article is going to short some of the best from my own research.
Best gas leaf blower 2021
If you're in the market for a gas-powered leaf blower, you probably fall into one of the following brackets: you've got a large back yard, you have a lot of trees around you or you may work in the landscaping trade. (Note: if you do have experience landscaping, there's not much that you're going to learn here. I would think you have a pretty good grounding in this type of equipment)
There are three things to think about when buying a leaf blower. It has to be light enough to carry around. It also needs to be cheap, and it should have the power you need.
The industry uses two standard measurements for blowing power:
Miles per hour (mph): This is the actual speed of the air coming out of the nozzle of the blower. As a general rule, the higher the number, the more powerful the leaf blower.
Cubic feet per minute (cfm): This measurement indicates the total volume of air moving through the machine that then goes on to push the leaves.
These measurements have been combined, alongside the cost to buy and run the unit, and the weight, to establish what is the best gas leaf blower for the money. Here my top 3 picks:
1. Poulan Pro PRB26
The Poulan Pro PRB26 is an inexpensive, light-weight blower. I have used it and it felt good to use. It's powerful but not too heavy.
The Poulan moves 470 cubic feet per minute. It can make gusts up to 200 miles per hour.
It's very easy to use. The cruise control and trigger operated variable speed control make it easier to use this blower. You stay in the driver's seat while using it. The Poulan PRB26 also has a soft handle and technology to reduce vibrations.
This blower has a 2-stroke, 26 cc engine. It has a standard choke.
This model tops my list as a great all purpose gas-powered leaf blower with a little bit of everything for everyone.
Specifications:
Air velocity: 200 mph
Airflow: 470 cfm
Weight: 11 lbs
Pros:
✓ Very affordable
✓ Super powerful for the price
✓ Simple to use
Cons:
✗ If you're willing to invest more money, or carry more weight, there are stronger blowers out there.
Buy it here on Amazon
2. HUYOSEN 26cc gas leaf blower
This gas leaf blower is one of the more powerful ones on the cheaper side. What do you get for this low price?
This blower includes a fairly standard 26 cc, 2-cycle engine. It is easy to start it. It is also easy to control it.
While the 157 mph airflow may leave you feeling it lacks oomph, don't be too hasty to discount it. It has an impressive 547 cfm of airflow. However, as it's fairly heavy for a handheld, it drops a point in this budget range.
Overall, this leaf blower is worth the price and will serve any customer who is looking for an easily affordable quality product.
Specifications:
Air velocity: 157 mph
Airflow: 547 cfm
Weight: 11.5 lbs
Pros:
✓ Cheap
✓ Impressive airflow
Cons:
✗ Lacks Power
✗ Heavy
3. Stihl BR 800 C-E Magnum
This thing is not for the feint hearted. It is an absolute beast. It's power is phenomenal and has the capacity to clear anything that is put in it's way easily blowing leaves 2o feet away. I have also seen a video of the Stihl blowing a brick around a yard like an air-hockey puck.
It starts easily and due to the spring-loaded, horizontal design, you can even start it whilst it is on your back.
The downside to this unit is that it is very loud, even at a distance. This may not be a problem if you live remotely, but your neighbours won't thank you for it otherwise; mind you, if they have been giving you ear ache about the state of your yard, then what the heck. Go for the Stihl!
Air speed: 195.6 mph
• Weight: 28.4 lb
• Engine: 79.9 cc, 2-cycle
• Sound levels: 100 dB / 77 dB
Best Gas Leaf Blower under $200
You can find decent gas leaf blowers for less than a couple of hundred bucks these days. In this price bracket, there are both handheld and back mounted models. After lots of research here are 3 top rated, and in my opinion the best gas leaf blowers under $200. Each one is dependable. They will get the job done!
Husqvarna 125B
The Husqvarna 125BVx is an excellent gas leaf blower. For the money, it's great. At well under $200, it's very affordable and has a lot of blow for the price. TThis gas leaf blower has a setting called "cruise control" which means you can focus on blowing leaves and not having to crank the gas. The starter cord is easier to crank because it has the "Smart Start" feature.
Unfortunately, weighing in at over 9 1/2 pounds, it is not the lightest unit on my list. The 1.1 horsepower, 2-cycle engine has a high-velocity of 170MPH. The air volume is 425CFM.. The 16:1 mulching is really good as well. You can buy this leaf blower and have peace of mind for a couple of years with its' warranty.
Tech Specs & Details
170 MPH
Smart Start
Air Volume: 425 CFM
Cruise control capabilities
Weight: 9.6 pounds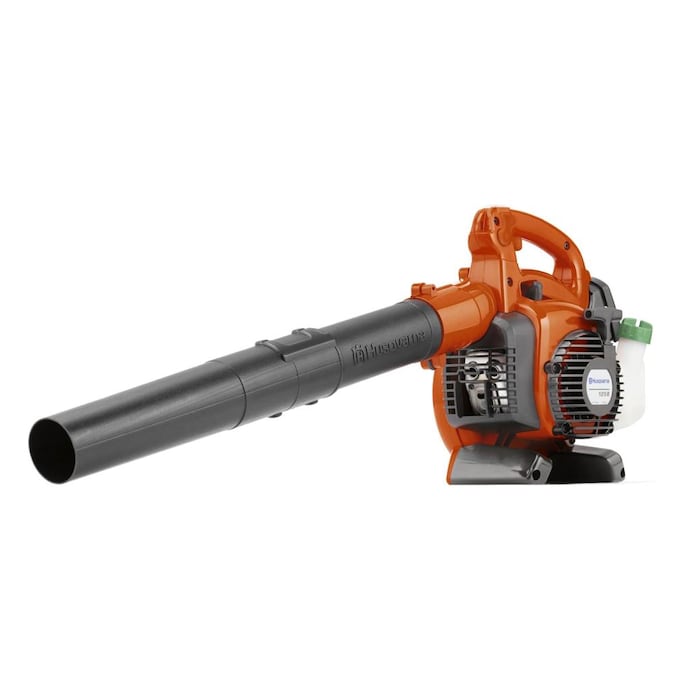 2. Craftsman B215
Here is yet another leaf blower that's far too good for its price range. The Craftsman B215 25cc is a very cheap product costing way less than $200. However, don't be fooled by the low price. It's dependable and gets the job done.
Providing 430 CFM air volume unto 200 MPH blowing power, its power to $ ratio is fantastic. It uses a gas-powered 25cc 2-cycle engine.
One of the other things that is really helpful about this leaf blower is the long nozzle with a scraper built-in. This will stop you needing to bend down and help with scraping mud and there stubborn grime that you find on the driveway. It also has cruise control ability.
That said, it weighs about 11 lbs which is heavier than the other blowers on this list. Nevertheless, if weight isn't an issue, don't be fooled by the low price as it is incredible value and will not let you down this season.
Tech Specs & Details
Handheld
430CFM
25cc 2-Cycle Engine
Cruise control
Velocity: 200 mph
Extended nozzle
3. ECHO PB-2520
The lightest fully-featured handheld blower is the top performing ECHO PB-2520.
The professional grade engine produces 453 CFM and 170 MPH. This give you a a fast way to clear up.
The lawn blowers unique S-Pipe design reduces the gyro effect on your wrist. This improves your comfort when clearing the yard. This yard blower has a cruise control feature which is easy to adjust on the job.
Tech Specs & Details
Comes with a 5-year consumer/2-year commercial warranty
Double-grid intake design reduces clogging
Weighs only 8.6 lbs.
Unique S-pipe design reduces gyro effect on users wrist for improved comfort
Variable cruise control allows user to lock throttle, reducing fatigue
Shoulder harness attachment points allow for the use of shoulder harness
Check price at Home Depot
Most powerful gas leaf blower
If you're looking for brute force power, nothing on my list competes with the Schröder SR-6400L industrial backpack leaf blower .
If you're looking for brute force power, nothing on my list competes with the Schröder SR-6400L industrial backpack leaf blower .
This high performance, commercial grade blower moves 920 cubic feet of air a minute. It can blow at up to 230 mph – The speed is almost as fast as a NASCAR!! This German-made blower has a big engine that is 63 cc with 3.7 horsepower. With this much power, you need to be careful not to blow away your mulch.
This blower is 19.5 pounds, which is lighter than many other backpack models.
The Schröder SR-6400L comes with a 5-year warranty, which means the company believes it is durable. This product is one of the more expensive ones on my list. It's also very durable, so you don't have to worry about it breaking easily.
Specifications:
Air velocity: 230 mph
Airflow: 920 cfm
Weight: 19.5 lbs
Gas-powered Backpack Leaf Blower
For larger yards, a Backpack gas-powered leaf blower is better. It is much more powerful and can blow leaves farther. So if you favor more leaf-shifting oomph with the convenience of a backpack thrown, consider investing in one of these bad boys!
Points to Consider
First, these machines make a lot of noise. They make a lot of noise because they have a big engine and they move air really fast. But they get the job done in a fraction of the time that you would with a rake or even a powerful handheld leaf blower.
If you are clearing leaves by hand, it can be tiring. But if you have a backpack leaf blower, it will make the process go faster and take less strain on your arms and wrists. On the other hand, these machines are big. They take up a lot of space for storage
More power is a good thing when you want to clear leaves. It makes the job faster. On the other hand, a big engine is needed to have power. This includes batteries and a fan. That quals a significant amount f extra weight to carry around.
More power is a good thing when you want to clear leaves. It makes the job faster. On the other hand, a big engine is needed to have power. This includes batteries and a fan. That quals a significant amount of extra weight to carry around. The largest blowers begin to approach 30 pounds. Your level of fitness, age, and interest will determine how much weight you can lift. You might be better off with a lighter and less powerful model that's easier to handle. A more powerful blower has more recoil than a less powerful blower. Pushing back against the recoil of a blower can be as tiring as clearing leaves with a rake or other tools.
Backpack Leaf Blowers
Here are my top 3 picks for gas powered backpack leaf blowers:
1. PX-Trunk Gas Leaf Blower
4 Stroke Leaf Blower: 4The 75.6cc engine makes less noise and is more efficient with fuel., A powerful 4-cycle engine and a fan speed of max 7500rpm makes this an excellent tool for cleaning large areas.
Gas Blower with Variable Speed & Blow Direction Control: Press the trigger to control the speed of blowing, the turban fan can be adjusted up to 7500rpm, and idles at 3000rpm. Equipped with cruise control for a steady blow speed reducing arm and wrist strain.
Powerful Leaf Blower: This leaf blower has a huge 700 CFM air volume, giving a maximum wind speed of 210mph. This model is suitable for both domestic and commercial use.
EPA Certificate & Responsible: The material are stringently selected by PX-Trunk. This gas powered leaf blowers has passed the EPA certification in the US.
Backpack Comfort: These leaf blowers are designed with a padded back, adjustable shoulder straps and hip belt to reduce fatigue and strain on the body. It provides effective anti-vibration minimizing the stress on your arms and wrists. Lower noise emissions are a plus in built-up residential areas.
2. ECHO PB-580T
The ECHO PB-580T gas leaf blower has a 58.2cc professional-grade, 2-stroke engine. It also has a tube that you can use to control the amount of air that comes out of it. This yard blower has a lot of power. It blows it at 517 CFM and moves it at a rapid 210 MPH. This backpack is good for people who want to stay cool in the summer. Air inside this backpack circulates around your body helping to keep you comfortable. This is a small and durable machine that will be easy to carry.
Lawn blower comes with a 5-year consumer / 2-year commercial warranty
Unique vented back pad for hot weather and padded backrest/shoulder pads
Tube mounted throttle with cruise control
Top performing power
3. Makita EB7650TH
The Makita EB7650TH MM4 4-Stroke Tube Throttle Backpack Blower is my favourite gas-powered back mounted leaf blower. It only rates 3 due to price and I guess that most folks don't need the power this beauty provides. However, if you do want to splash out then this is my top pick where money is not object! . The EB7650TH has both fuel efficiency and comfort. It has all the power you need and an active cooling system that you'll be super grateful for when it's hot outside.
Tech Specs:
Engine Displacement (cc) : 75.6 cc
Engine (HP) : 3.8 HP
Max. Air Volume: 670 CFM
Max. Air Velocity: 200 MPH
Sound Pressure: 76 dB(A)
Dry Weight: 24.1 lbs.
Best Handheld Leaf Blower
If a backpack is too excessive for your needs, space is tight, or you just can't justify the expense, there are plenty of handheld options that will get you cleared up in no time. Here are some select picks for all needs and should get the yard looking clean and clear in no time:
Best Handheld Gas Leaf Blower 2021
1. 1. Poulan Pro PRB26
Equipped with powerful 26cc, 2-Cycle engine
Substantial blowing power with high-velocity airflow up to 470 CFM and 200 MPH airspeed it easily clears grass, leaves, and stubborn debris
Equipped with trigger-operated variable speed control for precise blowing power and optimal performance with various lawn conditions and/or tasks
Comfortable soft-grip handle provides optimal comfort and lessens user fatigue
This blower is ideal for year-round clean-up of grass, leaves, and other stubborn debris
Air volume: 470 CFM, air speed: 200 mph
2. HUYOSEN Leaf Blower 2-Cycle Engine
High Performance 2-Cycle Engine:HUYOSEN High performance 2-cycle engines are lightweight and have a 26cc. They are the best type of 2-cycle engine that there is.
Simple Startup Steps Designed to Make You Work Smarter:Starting is simple with a light pull of the handle. Fully adjustable air volume and speed with ease.
Non-slip Handle with Throttle Lever: This rubber handle can be used with one hand. It is comfortable and reduces the work burden.
3. Craftsman B225
DUAL BEARING DESIGN: Dual bearing design and comfort over-the-mold handle absorbs and reduces vibration.
CONTROLLED OPERATION: Features such as inline intake and variable speed control give user more control while in use.
ELECTRIC AND EASY START CAPABILITY: Easy-start technology provides simpler pull starts while the added electric start capability eliminates pull starts with an electric engine starter. (Starters sold Separately. )
2-CYCLE ENGINE OIL: Oil included with purchase for your convenience.
Most Powerful Handheld Leaf Blower
Like any power tool, there are those that can and those that, well, just seem to leave you underwhelmed. Clearing leaves is a chore, and if the tool is not up to it, it's going to leave you feeling greyer than a fall day in San Francisco.
If you need a bit more oomph from your handheld leaf blower, you could consider one fo these three options:
1. Echo PB-255LN Handheld Blower
25.4 cc professional-grade, 2-stroke engine for outstanding performance
Parallel handles aid in directional operation
Posi-loc pipes for a secure connection
354 CFM and 191 MPH performance
Low noise, 64 dB(A)* output for noise sensitive environments
Flared pipe for increased air speed
2. Craftsman B225 650
INDUSTRY LEADING AIRFLOW: Powerful 27cc 2-cycle engine blows air efficiently with an industry leading air volume up to 650 CFM with air amplifying technology.
DUAL BEARING DESIGN: Dual bearing design and comfort over-the-mold handle absorbs and reduces vibration.
CONTROLLED OPERATION: Features such as inline intake and variable speed control give user more control while in use.
ELECTRIC AND EASY START CAPABILITY: Easy-start technology provides simpler pull starts while the added electric start capability eliminates pull starts with an electric engine starter. (Starters sold Separately. )
2-CYCLE ENGINE OIL: Oil included with purchase for your convenience.
3. ECHO PB-2620
25.4cc ECHO 2-Cycle Engine
Delivers exceptional performance and reliability
Chrome-plated cylinder extends the engine life
Pleated paper main filter plus foam prefilter help protect the engine
Efficient Clean-Up
Up to 172 MPH/456 CFM airflow
Variable cruise control offers more control and convenience
Easily remove leaves and debris from your yard
Innovation
Double-grid design reduces intake clogging
Includes both round and flared end tubes
Increased Comfort
Rubber grip reduces vibrations while increasing comfort
Secondary handle improves comfortability and maneuverability
Includes shoulder harness attachment points for use of a shoulder harness
Best Battery Leaf Blowers
If you are worried about noise, weight or, considering it is 2021 and all that, the environment, you may be considering a battery powered leaf blower. Before you jump in, consider these points before making your final decision:
Pros
Lightweight
Quieter
Better for the environment
Smaller unit on average
Cons
Battery capacity determines the range – better suited to smaller spaces.
Batteries are expensive.
Not so easy to fix – require less maintenance though.
Can lack the power of gas powered alternatives – especially true in like for like price comparison tests.
Here are the top picks from my research:
Best Battery-Powered Leaf Blowers 2021
Here are the top picks from my research:
1. BLACK+DECKER Leaf Blower & Leaf Vacuum, 3-in-1
HEAVY DUTY ELECTRIC BLOWER AND MULCHER: This powerful blower can blow leaves and other things with ease. It can operate at up to 250 MPH.
3 TOOLS IN 1: Blower, vacuum, and mulcher keeps your yard spick and span.
NO HASSLE LEAF DISPOSAL: The disposable leaf bag system will help you clean up.
HIGH POWER MULCHING: Grind up to 16 bags of mulch into one.
VERSATILE CLEANING: This is a good machine for clearing driveways, sidewalks, decks, garages and lawns of leaves. It can also vacuum up leaves, grass clippings and more.
2. DEWALT 20V MAX Blower
2 x 20V MAX 5.0Ah XR batteries, providing up to 10 amp hours of capacity
The Kit includes a soft bag for additional tool storage
Battery operated leaf blower with max air flow 100CFM
3-speed variable speed switch of this blower provides control and versatility
If you already have Dewalt power tools the batteries are compatible.
3. Makita XBU02PT1
Delivers up to 28 minutes of run time at mid-speed (15,800 RPM) using two 18V LXT 5.0Ah batteries
BL Brushless motor delivers up to 120 MPH air velocity and 473 CFM of air volume
Sound pressure rating of 61 dB(A); measured per ANSI B 175.2 standard
Zero emissions and reduced maintenance; no need for gas or oil
6-stage air velocity/volume selection dial with variable speed control trigger
Final Thoughts
So, there you have it. Don't let those leaves be the bane of your life any more. Think abut what you need from your leaf blower. Make your final decision based on:
Space for storage,
Size of yard,
Weight that you can handle,
How much time you have to do for the job.
This should help guide you down the right road for a gas guzzling back pack model or a nifty and light battery powered hand held model. The choice is yours. But , remember regardless of which one you choose, watch out for those dog mines hiding beneath the leaves….especially if your neighbour is watching you!!
If you liked this article, be sure to check out my other recommendations in The Best for Your Home.