When it comes to traveling, one of the best ways to make sure you are drinking filtered water is by using the best travel filter water bottle you can get your hands on.
The best ones will remove heavy metals and other contaminants that might be found in tap water or even bottled water.
When you're on the go, it's easy to forget that hydration is essential for your health.
Since many of us are too busy to stop and drink enough water, we use filters like these to help ensure that our water supply is clean, healthy, and refreshing.
The five best travel filter bottles will let you stay hydrated no matter where life takes you! Whether you're hiking in the mountains or driving across country with a two-year-old in tow, if you keep one of these handy water filtration bottles on hand at all times then there'll be no need to worry about whether or not your drinking habits are safe.
This post will cover what each bottle has to offer as well as how they work.
TL;DR
Whether you're travelling to a country for the first time, or visiting an old favourite spot, knowing how to stay hydrated is key.
A travel filter water bottle is going to be your best friend when it comes to staying healthy – whether you want one that filters out all microbes and chemicals with UV light or just takes care of bacteria and viruses.
The benefits are clear: reduced illnesses from contaminated drinking water, less plastic waste in our environment, more money in your pocket thanks to avoiding single-use bottled water altogether!
Here are the top picks covered in this article:
Best Filtered Water Bottle For Heavy Metals
How can you really tell what you're drinking? This is hard enough when you're at home. When you're travelling this question can LITERALLY open up Pandora's box. Suddenly, all of the water worries you had before (and there were many) multiply by about a million. So what's the best way to make sure your H20 is up to snuff when travelling? Invest in one of the best filtered water bottles for heavy metals!
In case you weren't aware, heavy metals in water are more common than you think. Metals like lead and mercury can be found in both tap water and bottled water, so it's best to take precautions when travelling.
Too much of lead and mercury will not leave you looking like the T100 in Terminator. These metals can have long-term health impacts like damage to the nervous system, heart, and kidneys.
That's why it's best to have a filtered water bottle specifically designed to remove these heavy metals from your beverage.
What's the difference between a filter and a purifier, and which is better for you? Before we get into the top filtered water bottle picks, it's important to understand the differences between a filter and a purifier.
A water purifier, at its most basic level, provides more protection than a water filter. Filters remove germs, protozoa (a large single-celled organism), and other pollutants from your drinking water. Purifiers go even further by removing viral infection as well.
The Grayl Geopress Water purifier is a market leader in water filters. The Geopress can purify 710ml of water in under 10 seconds. Its one-of-a-kind OnePress process takes a little longer than other filters, but once you get the hang of it, it's simple enough.
Simply fill the outer part of the bottle with dirty water before reconnecting the inner and pressing down on the rubber pads. You'll need to put a lot of strength into it, so choose a flat, stable surface. Water is pushed through the filter and stored in the clean inner section of the bottle, leaving you with drinkable water whenever you need
The bottle is BPA-free and made of hard plastic. It can withstand a 10-foot drop onto concrete while still full of water, so it'll go with you everywhere you go. On the bottom and sides, there are rubber grips as well as rubber pads on top to protect your hands during the filtration
The side handles assist you in holding the bottle, but they make it difficult to slide the Geopress into a mesh side pocket or any tight location in your luggage.
Before it needs to be replaced, each filter can purify 250 liters of water. You don't need to keep track since the purification decreases over time. When it takes 25 seconds to filter the whole bottle, it's time to change the filter. Grayl is currently developing a zero-waste recycling system, which should be completed in the near future. Grayl is also part of 1 percent for the planet, which helps to sustain thousands of environmental initiatives around the world.
Grayl also offers the Grayl Ultralight Water Purifier, which is smaller but equally effective as the Grayl Water Purification System.
Best Filtered Water Bottle For Hiking
When you head out for your next adventure in the hills, you have your checklist. It comes down to 3 main things:
Shelter & Protection from the elements.
Nutrition (food) to keep you fuelled for your hike.
Water for HYDRATION!
When you're getting your kit together space is at a premium you want to be sure that you leave room for the best filtered water bottle for hiking. These bottles will allow you to drink from the most disgusting and stagnant ponds that you come across. Most of them also have a capacity that will last you for the majority of your hike.
Our top pick for the best water filter for backpacking is the LifeStraw Go Water Filter Bottle with 2-Stage Integrated Filter Straw for Hiking and Backpacking.
LifeStraw has been the market leader in water filters for years, and is well-known across the world. They make great efforts to give back to the community, and since their founding, they have given over 3 million kids clean and safe water.
The LifeStraw Go is their low-cost filtered water bottle, but it isn't a purifier.. The hollow fibre filter will eliminate protozoa, bacteria, and particles.The carbon filter removes pollutants, bad tastes, and odors while the accompanying silver ion technology eliminates heavy metals, terrible tastes, and smells. However, viruses are not filtered out by the filters.
The Lifestraw Go is made to endure. The bottle's hard, BPA-free plastic construction will withstand extended hiking trips with ease.The Brita water filter uses a straw filtration method. It's available in 650ml and 1- litre versions, both of which feature straw filtering.
You may remove the filter to clean out the bottle fully. If you're in a location with clean water, taking the filter out allows you to use the Lifestraw Go as a regular water bottle, saving the filter's effectiveness for when you really need it.
Before it needs to be replaced, the main filter should last approximately 4000-litres.The carbon filter, on the other hand, will have to be replaced every 100 litres. If you don't have a replacement carbon filter, you may still use the bottle since the primary filter will still clean your water — it will just prevent unpleasant smells and tastes from entering.
Best Filtered Water Bottle Consumer Reports
A bit cynical about the bold claims of all these well-known brands? You'd be forgiven right. Remember Erin Brockovich right? That's where the best filtered water bottle consumer reports come in handy. They put all of the water purifier systems and bottle filters through their paces. Lots of funky science goes on and they check out the manufacturer claims. So, if you're looking for the best filtered water bottle and don't know where to start, check out their latest reports.
But what about those of us who just want something simple? Something that doesn't require any specialist knowledge or equipment?
Thirsty? Tired? Lost? Sip on some SurviMate purified water and you'll be good as new! This top-of-the-line filtered bottle has four advanced filters to make sure your H2O is up to snuff.
Whether you're trekking across the desert or just lost in the city, this handy bottle will help guide you back to civilization. So drink up and don't worry about a thing!
Best Water Filtration System For Home
However, do you know if the water you drink is clean? Drinking water on a daily basis is an important aspect of maintaining good health, but are you sure that the water you're drinking is clean?
"Water may contain a wide range of bacteria, viruses, and impurities depending on where you live and the source of your water. Pesticides, pharmaceuticals, heavy metals, and other pollutants can all be found in our home water supplies.
Viruses and pathogenic bacteria such as Salmonella and e. coli are examples of contaminants. To this list we should add lead, mercury, bisphenol A, progesterone, caffeine, acetaminophen (paracetamol), glyphosate, benzene and many other harmful chemicals.
No one wants to put toxins into their bodies every time they drink water (or cok, clean, bathe, or do anything else). That's why water filtration systems for your home are so amazing.
When shopping for the best water filtration system for your home look for one that purifies and filters out contaminants. Systems that both filter AND purifiy are best. Make sure that the brand is CLEAR about the contaminants it removes.
I also value third-party lab testing that can show that the system meets or exceeds water quality requirements. Also be certain to factor in the the cost of replacement filters. How long do they last? This needs to be weighted up when choosing the best water filtration system for your home.
Ready to start drinking cleaner water at home?
Check this out: iSpring RCC7AK, NSF Certified 75 GPD, 6-Stage Reverse Osmosis System.
The 6-stage reverse osmosis (RO) water filter in this under sink location removes up to 99% of over 1,000 pollutants, including lead, chlorine, fluoride, arsenic, asbestos fiberglass fibers can be found.
The RO membrane eliminates not only dangerous pollutants but also a few helpful minerals. Because of this, a typical 5-stage RO system creates slightly acidic water with a pH of 7.0 or below.The iSpring Reverse Osmosis water filter RCC7AK includes a sixth stage, an Alkaline Remineralization filter, which entails balanced alkalinity.
The transparent first-stage housing makes filter inspection a breeze!
Easy DIY Installation: All components and complete instructions are included, as well as world-class assistance.
The RO water filtering system is subjected to extensive testing for air leaks, pressurization, and cycle resistance in order to ensure high quality and performance.
Brita Filter Water Bottle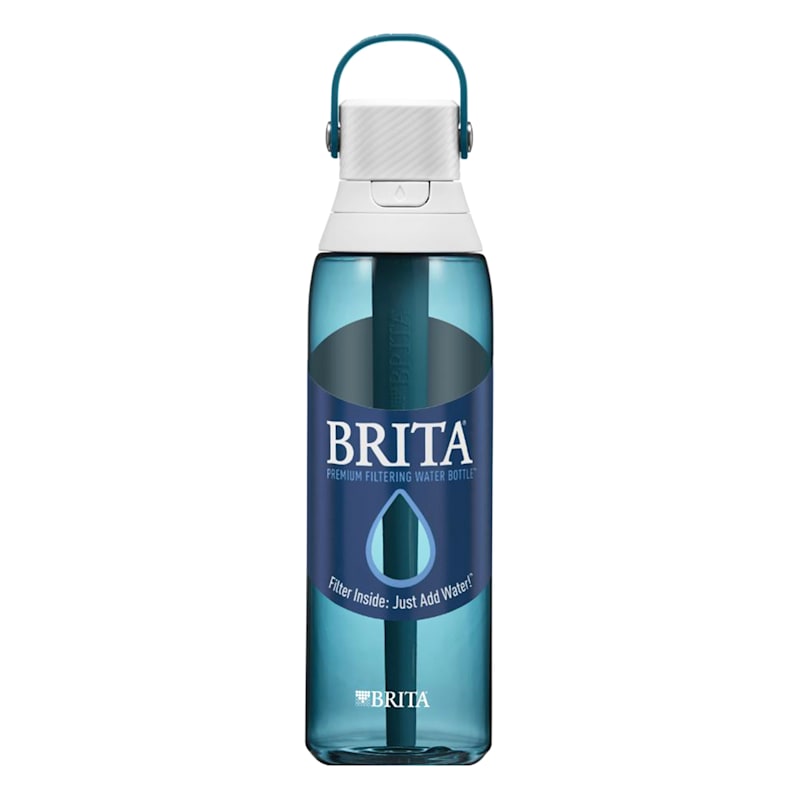 Brita produces faucet and pitcher filters, as well as plastic and stainless steel filtered water bottles. These bottles aren't designed for outdoor usage, according to Brita's website. They're only meant for filtered tap water, like the Astrea bottle. The Brita filtering water bottle uses an activated carbon filter, which is extremely porous and effective at removing chemicals such as chlorine and particles.
Brita's water bottles are available in plastic or stainless steel. I wouldn't take this bottle filter bottle on a backpacking trip since it is BPA-free and moderately robust, but I don't think that's an issue. This is not a lightweight container (7.1 ounces), so it's not ideal for overnight camping excursions, unless you're prepared to carry gallons of water with you. If you fill it up with tap water first, though, it'll suffice for day hikes (use at your own risk).
The Brita filtered bottle is made up of three pieces: the bottle, the flip-top cap, and the filter. The filter fitting securely into place on the bottom side of the cap It's simple to put together and only requires a few minutes of preparation before your first usage. Simply wash the bottle and run the water bottle filter under hot water before using it for the first time. Because there are so few components, it's a breeze to clean the container.
Brita Water Bottle 32 Oz
The Brita takes this a step further by keeping your water cold for up to 24 hours, thanks to its insulated design.
It's made of stainless steel, making it sturdy and visually attractive. It's in the middle of the pack both in terms of price and performance.
The one disadvantage of the Brita Premium water bottle: filters must be replaced every 40 gallons. This isn't a deal-breaker, but it doesn't have the longest lifespan of the other bottles we tested. Overall, the Brita Bottle 4002 is a fantastic product for filtering water and keeping it cold in your refrigerator over night. It also removes more contaminants from tap water that other filters. This filter bottle only has one minor drawback—that we could find—which is why we believe it's the best filtered water bottle for the money.
Best Filtered Water Bottle For Traveling Abroad
NOBODY should travel without their own water bottle with what they're charging for bottled water at the airport these days. However, when traveling to a location with a poor reputation for clean water, it's reasonable to be cautious about drinking straight from the tap.
Filtered water bottles are the most convenient option.
Filtered water bottles are typically a bit more expensive than standard reusable bottles, but they're well worth the investment. For the peace of mind you'll get with each sip.
My favourite for travelling abroad is the CrazyCap 2.0 UV Water Purifier.
The Crazy Cap is a touch-sensitive water bottle cap that purifies with the press of a button, DESTROYING viruses and bacteria.
It stands out due to its lightweight design, which makes it ideal for traveling. It BLASTS-AWAY the DNA of disease-causing pollutants using UV light.
The bottle and cap are both highly resistant to breakage. Insulated. Sealed and waterproof.
With a simple touch of the button, it purifies water in 60 seconds. It can also be used to clean surfaces that may have been contaminated.
The CrazyCap 2.0 UV Water Purifier is my my best filtered water bottle for travelling abroad.
It's simple and easy to use.
The long battery life between charges lasts at least a week.
Result? Travel safe in the knowledge you can drink wherever a polluted, clear water source might be found.
Best Filtered Water Bottle For Tap Water
The filtered water bottles covered so far are AWESOME. But when you're at home, they may be a little bit excessive for filtering your tap water.
The best filtered water bottle for tap water needs to do 3 things.
Filter out bad tastes.
Remove nasty chemicals like chlorine.
Be easy to drink from – I don't wanna feel like I'm sucking a golf ball through a hosepipe!
Astrea One Filtered Water Bottle
The Astrea One filtered water bottle effectively removes a wide range of heavy metals and chemicals, including lead, benzene, mercury, copper, chlorine, and more.
The Astrea One filtered water bottle is constructed of stainless steel and features a thick BPA-free plastic lid. The water bottle filter inserts firmly into the bottom of the lid and secures, giving it an overall robust appearance.
If the Astrea One bottle's filter is not in place, it will simply be a regular wide-mouth stainless steel water bottle, making cleaning quick and simple. The bottle is large enough to accommodate a regular dish scrubber within the lid, and the filter connection provides for extra access where necessary.
Astrea offers a monthly service so you never forget to change your filter. Each water filter costs $12 and must be replaced every two months if you use your water bottle on a daily basis. — Because most individuals consume approximately 2 liters of water each day, you should be able to get a long way before your filter runs dry.
What is the best travel water purifier?
Water filters, on the other hand, can only remove protozoan cysts and germs from water, not viruses.
Water filters are ineffective against viruses, which are too little to be filtered. As a result, a water purifier is required to combat all three of the microorganisms that may be present in contaminated water.
Deciding whether to invest in a water filter or purifier should be based on your level of comfort and the environment you'll be in.
If you're visiting Italy and simply want to drink the tap water, a filter will suffice.
When you're traveling to the third-world the water there is likely to be contaminated.
A water purifier is always advised. However, in this instance, a water purifier would be ESSENTIAL.
With a sleek design, and ultralight for a water filter pump the GRAYL GeoPress remains the best in my opinion.
The glass-fiber pleated filter, which is 0.2 microns thin, protects you against protozoan cysts and germs down to the finest level of protection.
The activated carbon activates and draws pollutants from the water once it has passed through the filter, resulting in odorless, crisp-tasting drinking water.
Its a highly useful filter pump to take with you on your adventures, given that it is small and light. It's trusted by backpackers in the community since it is a highly efficient filter pump.
How do you clean a water bottle when traveling?
Let's assume you're packing for a trip and you have a notion. I'm going to bring my own reusable water bottle, right? "I'm going to fill it with ice and fresh water from the cruise ship, hotel, resort etc. for when I'm out touring! I'll save both money and the environment by doing so!"
Before I go on, are you sure the water in your destination is safe to drink? That's a GREAT idea! If you checked whether the water was drinkable at your travel spot, then keep reading.
I'm sure you're familiar with this, but did you pack dish soap or anything to clean out that reusable water bottle after each usage?
Aren't you ashamed to drink from a filthy used glass at home? So, why would you do it while traveling? When you're on the road, however, is when you should do everything feasible to maintain your immune system in tiptop form.
It's absolutely GROSS to drink from a dirty, used water bottle for a day, let alone for a week – even if it's your own bottle and your own germs.
Take an empty eye drop bottle from your collection (or buy a new one).
Remove the cap and carefully pull off the "drop part" without damaging it.
Remove the remaining water from the bottle and fill it with dish soap. If you want, you can also add a couple of drops of bleach.
Replace the "drop part".
Make sure you label the bottle extremely clearly so you don't mistake it for….um….saline (because that would be terrible).
It's tiny, compact, and doesn't take up much room in your toiletry bag.
Simply fill the empty reusable water bottle with a little dish detergent, then add some water and shake. If you follow the steps carefully, it should take no more than 5 minutes. (Wipe off any remaining detergent; don't forget to wash the cap and mouth of the bottle) Now you're as sparkling clean and germy-free as possible!
Final Thoughts
It's time to get on the road and start seeing the world. But how do you stay hydrated while traveling? With so many water bottles on the market, it can be hard to know which is best for your needs. This post has a few of our favorites that we've found! We hope this list helps you find a filter bottle that works well for your travel plans. Let us know if you have any questions about what might work best for you in the comments below!
Best sure to check out my other posts for all of the best things when your'e travelling.